Though it would be nearly forty more years before the United Kingdom handed Hong Kong back to China, by the tail end of the 1950s its empire's days were undoubtedly numbered.
Businesswoman Mo Morgan has lived in the city since 2000, but she was just ten when she first visited in 1959 with her late father, Wing Commander John H Cook of the RAF, her late mother, Jenny, and younger sister, Alyson. The trip, unbeknown to the family at the time, also coincided with a royal stopover. With Queen Elizabeth II pregnant with Andrew, Prince Philip's South Asian tour was made alone, his other destinations including India, Myanmar and Pakistan. This collection of never-before-published snaps by Mo's dad not only capture the prince's visit, but offer a fascinating glimpse of a city on the brink of an economic boom, a still fertile land upon which the seeds of today's soaring skyscrapers would be sown to emerge as Asia's World City, the East-meets-West cultural cocktail for which Hong Kong still remains famed.
"We were stationed in Singapore at the time," Mo tells me as we sip chilled drinks under the searing sun in Hong Kong's sleepy fishing village of Sai Kung. "In those days, all troop movement from the United Kingdom was done by ship. The boats stopped at Singapore first, then Malaya (as it was then known) before heading here only about a third full. We were allowed to use the ship just for the cost of our food." The voyage took four days: "I remember it being rough and dad telling us it was because we had travelled at the tail-end of a typhoon."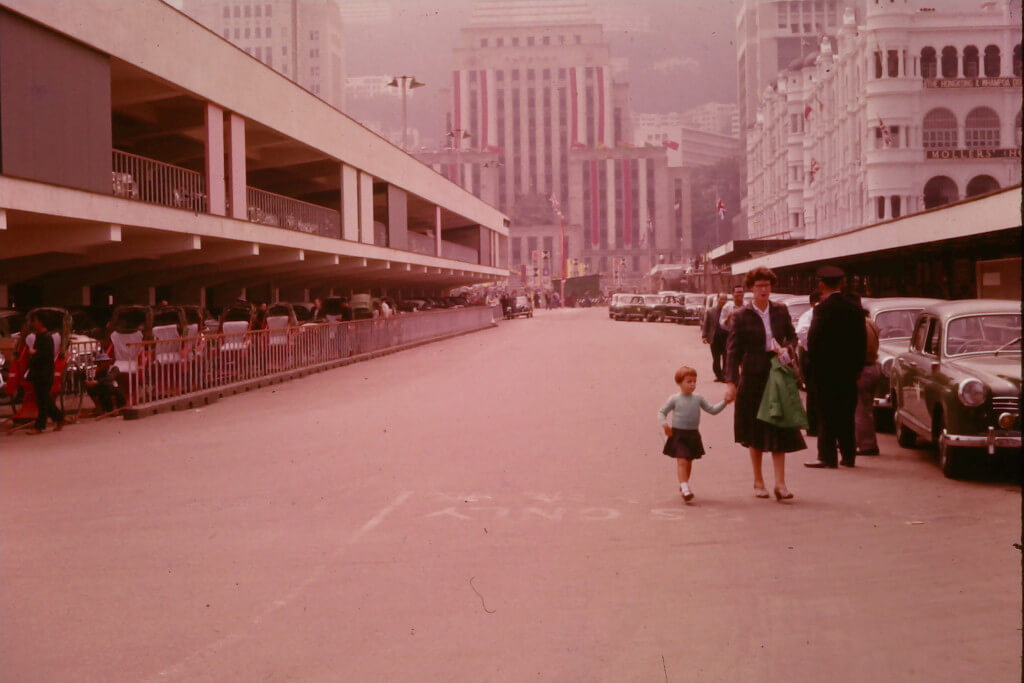 What were your first impressions upon arrival in Victoria Harbour?
"It was such a long time ago! But I remember the 'Bum boats' — they're the ones from which people try to sell you things while on the water, which I thought was fun. What was not so nice was seeing the lepers begging at the Star Ferry terminal."
Prince's Philip's arrival prompted much excitement, especially among the children. "All of the school children were out waving flags," says Mo. "I remember it being very cold and wet, which was a bit of a shock after living in Singapore for so long. Everyone was thrilled about the royal yacht being in the harbour, that was something that we could relate to, as it was the family's mode of transport in those days."
Another holiday highlight was the trip up to the viewpoint of the Peak in Hong Kong's famous funicular tram which remains one of the oldest and steepest in the world. "That was a real treat," Mo adds. "I still enjoy it today, but there are just so many tourists now!" We discuss other changes to the city, and Mo laments the loss of many of the ancient sights. "Sadly, Hong Kong has bulldozed much of it's heritage," she says. "I loved the old style shops — the same in Singapore and Malaysia — and you can still see some of the original businesses here in Sai Kung's old town and also on some of the islands like Cheung Chau."
I finish by asking Mo her favourite memory of the family trip. "That would have to be the journey from Tsim Sha Tsui to Tai Po on the Kowloon Canton Railway," she beams. "Though that was as far as it went in those days as China was a closed country so it was a such a huge adventure to get so close to the border."
___
Words: Jamie Christian Desplaces
---
Mo shared these images free of charge. She asked if anyone would like to make a donation to the Alzheimer's Society in memory of her father.
---