Walking the main drag of the tiny town of Hsipaw, Myanmar (formerly Burma), I was stopped by a bookseller at his roadside stall. I'd visited said stall a couple of days previously when he tried, unsuccessfully, to talk me out of buying a secondhand copy of George Orwell's Burmese Days. Not for any political reason, but because he thought the price had been set too high. This time, he did wish to discuss government, namely the unimaginable progress that his country was making as it sat on the verge of an historic political dawn.
Pin badges and other promotional paraphernalia were produced from beneath his dusty counter, all emblazoned with imagery of the party, National League for Democracy. Its leader, Aung San Suu Kyi, had previously spent two decades in detention for her attempts to bring democracy to the military-ruled nation, efforts that saw her receive the 1991 Nobel Prize for Peace, and it finally looked as though the 70-year-old politician's fight was won. Just a few years prior, so the bookseller told me, he would be arrested and me deported for having such a public conversation on such public matters, but now we were finally safe. He was right. A short while later, on 13 November 2015, the National League for Democracy achieved its parliamentary majority at the expense of the former dictatorial rule. He said I could keep his pins.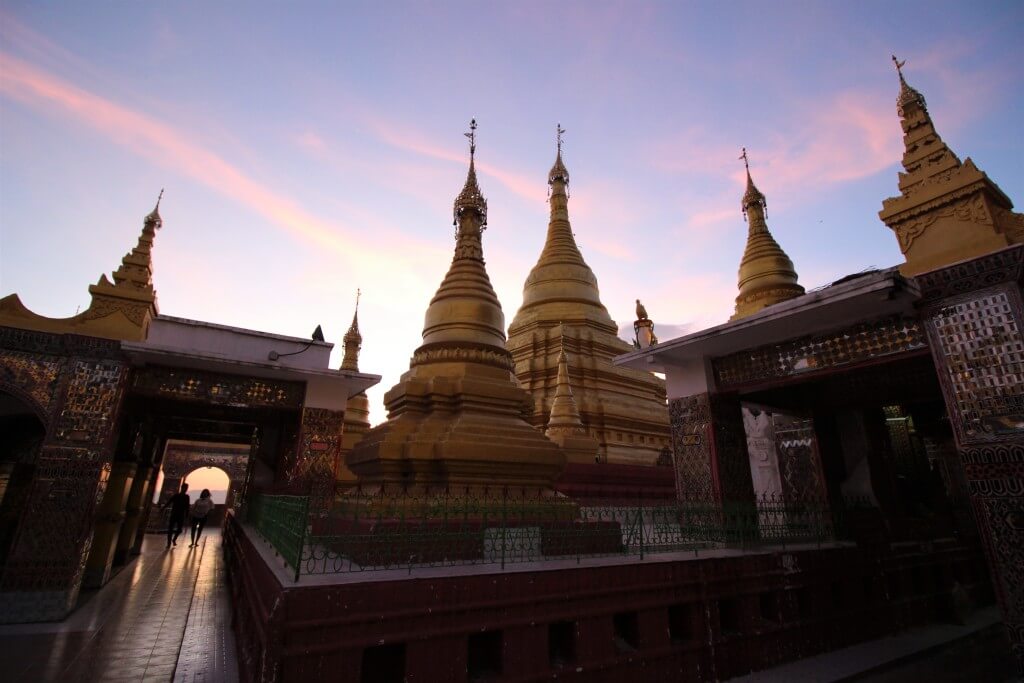 The once-closed country has only relatively recently opened its borders to tourists – it wasn't until 2012 that foreign visitor numbers topped a million – and it shows. Even in the major, cosmopolitan centres such as Yangon, locals stare, transfixed by their Western guests and throughout the nation the welcome is nothing short of wondrous. In fact, such is their politeness, which at times verges on outright gratitude for visiting their home, it's almost as if you're being mocked. But you can rest assured that you are most certainly not.
The deeply religious nation of mainly Buddhists is awash with temples and Mandalay Hill, overlooking it's eponymous city and surrounding plains, is an especially sacred spot. Famed also as a meeting point where young locals gather to practise English with visiting tourists, an affable student Buddhist monk escorted us to the summit for the spectacular sunset view. There's some superb eating in the nearby alpine town of Pyin U Lin, courtesy, most notably of a substantial Indian population, which is also home to magical colonial botanical gardens modelled after England's legendary Kew.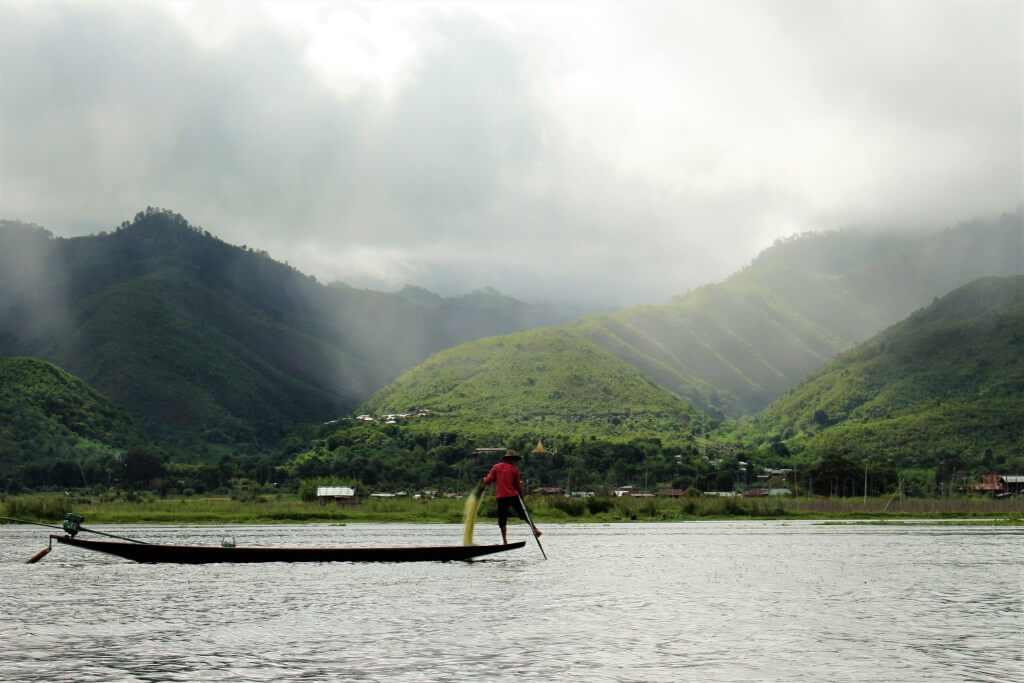 An antique train ride from Pyin U Lin to Hsipaw crosses the country's iconic Goteik viaduct. Not for the faint-hearted, the single track bridge, built by the then-ruling British Empire at the turn of the 20th century, stands over 100 meters tall and is considered an engineering masterpiece. Once in Hsipaw, one of the most popular activities is trekking to visit local tribes.
Bagan, with its enchanting temple complex, is undoubtedly the nation's star attraction. Once the capital of the Kingdom of Pagan (an ancient civilisation that preceded the formation of Myanmar), between the 11th and 13th centuries, the historic site housed more than 10,000 temples, pagodas and monasteries, of which, over 2,000 survive today.  The archaeological zone, comparable to that of Cambodia's Angkor Wat, is an absolute treasure trove best explored over multiple days via a hired electric motorbike or above from the luxury of a hot air balloon. Make sure you're there for at least one sunrise and sunset.
East of Bagan, Inle Lake stretches for 22km, and incorporates an incredible collection of the nation's many ethnic groups, some of whom live on floating villages, mostly untouched by the trappings of the modern world. Upon the lake fisherman balance precariously thanks to their famed one-legged paddling technique as they use both hands to cast their nets, colourful surrounding markets are overseen by proprietors in ancient dress whilst from beneath the shallow waters sprout flowers and farm produce.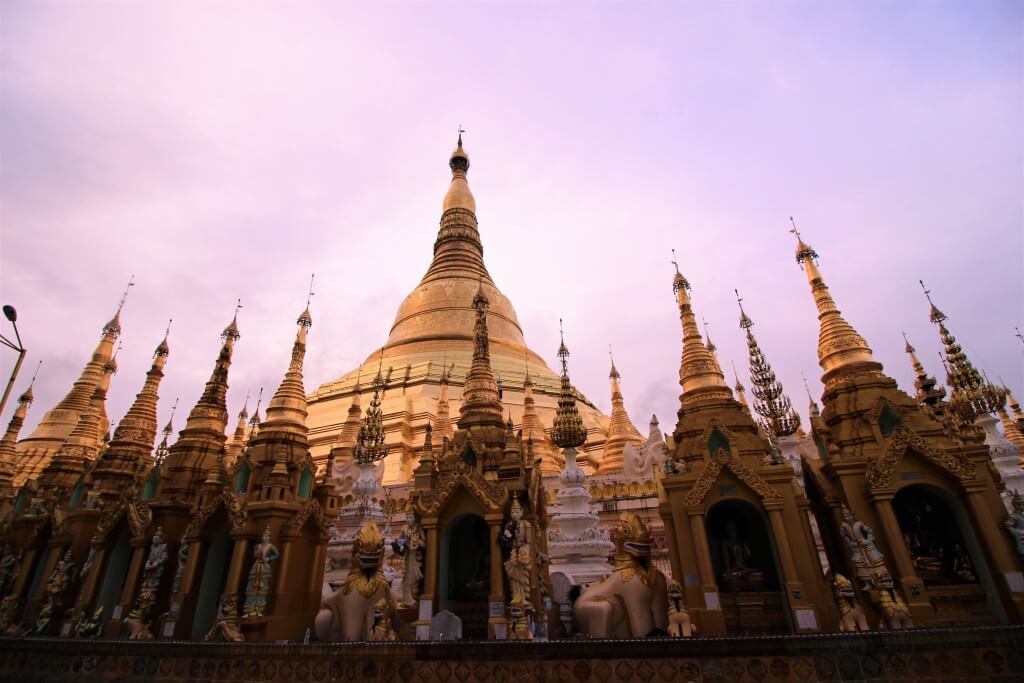 Last stop, Yangon. The former capital is still the country's most populous and vibrant city, home not only to some of Southeast Asia's finest colonial architecture, but the staggering Shwedagon Pagoda, Myanmar's most sacred Buddhist site. Said to contain holy relics, the 99-metre-high ancient dome is decked out with 27 metric tons of gold and countless diamonds and gems. No matter what your religious — or not — inclinations, it's difficult to be anything but awed by the sheer gorgeousness of such a clearly revered monument circled by candles and a constant flow of pilgrims. Similarly, atop of Mount Kyaiktiyo, around three hours from the city, sits the enormous 'Golden Rock', a gravity defying cliff-side monolith said to be held in place by one of Buddha's hairs. Alas, the mountaintop was coated in a blanket of fog for our visit, but still fascinating nonetheless, followed by a hair-raising roller-coaster-like rain-soaked ride back down the mountainside in an open top bus.
The historic and political troubles run far and deep in Myanmar and they certainly won't be resolved overnight. But for the first time in as long as anyone cares to remember, the future is filled with a well-deserved hope. For all of Myanmar's natural and architectural brilliance, it is the people and the warmth of their hospitality that I remember most fondly, and for a nation home to, among other things, some of the world's most beautiful Buddhist monuments and iconography, you can't pay much of a bigger compliment than that.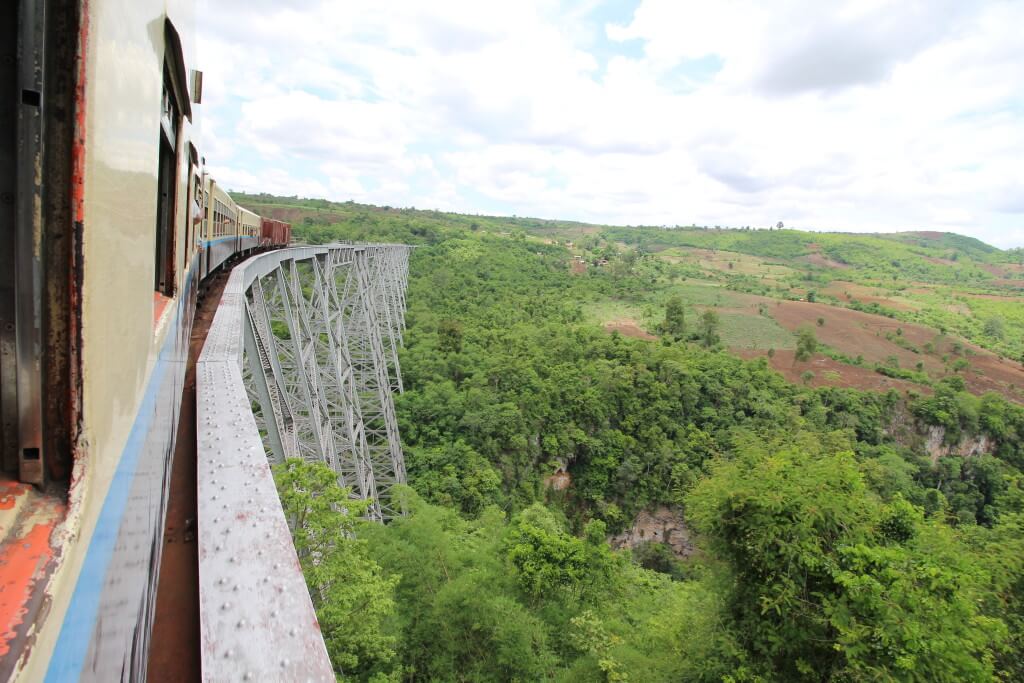 ---
Words & photos: Jamie Christian Desplaces