Nepal's devastating earthquakes meant that my partner and I arrived a few weeks later than planned, just as the rainy season began. Our hosts for most of the trip were the family of Shanti Yoga Ashram, a mountainside retreat overlooking the Kathmandu valley, its third-floor yoga studio, with ceiling-high windows, offering mesmeric views of the surrounding Himalayan wonderland. We'd been there a while before the clouds properly parted, when suddenly, beyond the majestic peaks that had already so humbled me with their size and ferocious beauty, were revealed even taller snow-kissed ridges rising, seemingly, almost into space.
By the time we touched down at Kathmandu airport, I'd already pretty much fallen in love with the Nepali people. Our plane left Kuala Lumpur packed with what I presume to be migrant workers and such was the extent of their excitement, their absolute and unadulterated joy, I'd have guessed it was their first-ever flight, but, of course, it must have been at least their second. In the departure lounge, in wonder, there began a barrage of photo-taking and filming that continued unabashed on board along with much banter. Once landed, the plane had barely ceased bouncing down the runway when the cabin was filled with the sound of seatbelts unclicking as everyone rose to collect their bags as if disembarking from their local bus. Multiple announcements were made to sit back down but to no avail. The minds of these smiling faces were already elsewhere. It was probably the first time they'd been back to see their families since the earthquakes. Oh, how we take so much for granted…
Yogi Prakash has taught across Asia, Europe and America, with his student list now thousands-long. He founded Shanti Yoga Ashram with his wife, Yogini Rama, and family, in the village of Machhegaun, around 10km from Kathmandu. The ashram acts as an intimate homestay, a chance to not only immerse oneself in authentic yogic practice and meditation, but to truly experience local life and Eastern culture in a way that will, without doubt, change yours.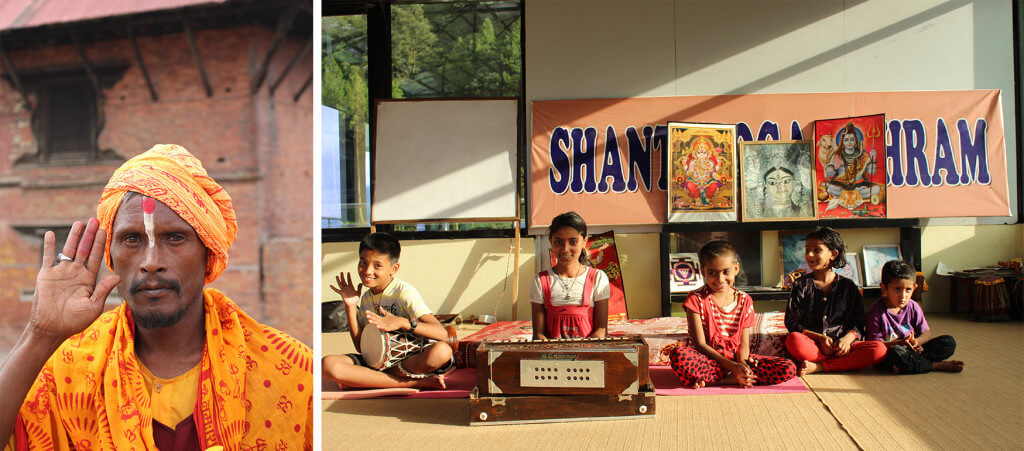 Days begin around 5.30am (though Nepali time, you will soon learn, is rather flexible), with a gentle stroll either further up the forested mountainside where a beautiful giant Buddha statue sits, or down to the quaint village below. Arriving back at the ashram you'll be greeted with a warm jug of salted water, but not for drinking, it's for pouring into one nostril, and out from the other. Named 'Jala Neti', the technique is said to cleanse and purify your sinuses to ensure you start the day with clear airways. Breathing exercises take on just as much significance as the stretches and poses in this part of the world.
The morning yoga class begins with chants and singing, a real family affair, often accompanied by some of the local children who live on site, and complete with a lead reed organ backed by an array of hand cymbals and bongo drums (I refrained from lending my quite appalling singing voice, but gladly helped out with percussion). It's a wonderful way to begin the day and feels like a real celebration of life. Breakfast follows, one of three included daily meals made up almost entirely from organic produce from the ashram's very own garden. Rama's cooking skills are superb, often ably supported — or sometimes even replaced — by daughter Prakriti, herself a budding yogini.
There is more yoga later in the day, and in the meantime there is plenty of opportunity to relax, explore the local area and read or study from the library (the ashram offers a range of courses including teacher training). Guests can choose to tend to the garden and help out in the kitchen while an offer to teach at the ashram's adjoining school is warmly welcomed and wholly worthwhile. The Divine Yoga School for underprivileged children, also founded by Yogi Prakash and his family, is a mix of spiritual and traditional academic classes and witnessing kids as young as three years old practising yoga routines at the start and close of the day will melt your heart.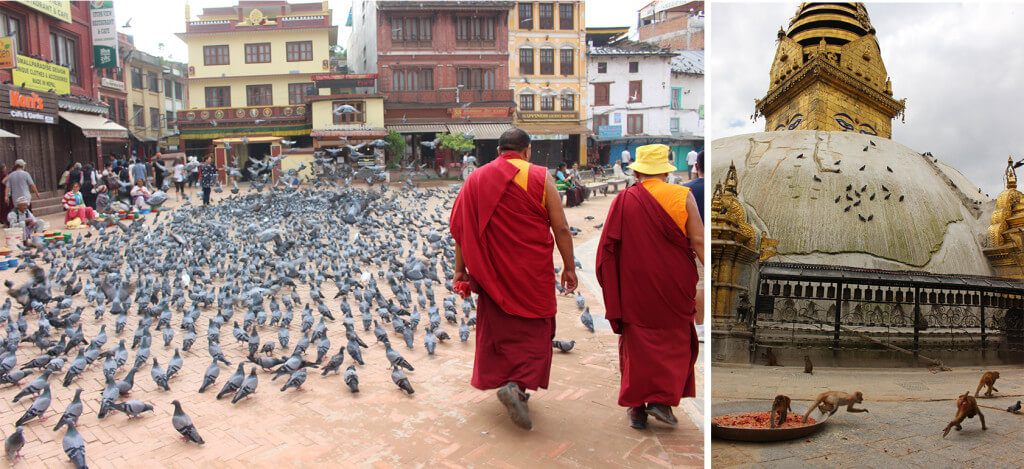 The children of Nepal are just incredible, and all the more so bearing in mind the trauma they have endured in recent months. We visited a couple more schools and trekked through some other villages, meeting an array of excitable youngsters — who usually endearingly addressed me as 'uncle' and my partner 'aunty' — often desperate for us to take their photo for no other reason than so they can see themselves on the camera's digital screen. Even so close to Kathmandu, as a 'foreigner', there are many curious looks from the local villagers, but a smile or 'Namaste' greeting with joined prayer hands is always warmly reciprocated and their curiosity soon fades to joy. It's so often that the people with so little have the most to give.
Tragically, there is still obvious damage in and around the capital, and many remain displaced, but progress is being made. Nepali tenacity is as magnificent as their hospitality and you don't have to venture too far to find a sign or T-shirt that reads 'Still Standing' or 'We Will Rise Again'. Durbar Square has been sadly razed, but three of Kathmandu's most iconic religious sites — Pashupatinath Temple, Boudhanath and Swayambhunath Stupa — remain relatively unscathed, as does the vast majority of the city. Mount Everest has recently reopened, and the nation's trekking routes remain clear. Heartbreakingly, the earthquake struck the most populated regions of Nepal, but it didn't actually physically affect most of the country, which remains open for — and in dire need of — business. It needs tourists.
I've visited some of the world's most enchanting monuments, but with so many wonderful countries on offer I've never been keen to go back to the same place twice. But I will go back to Nepal. It has had a profound effect upon me, and, like a love-struck teenager, I think about her every day. So, until the next time, Namaste my dear Nepal.
___
Words and photos: Jamie Christian Desplaces