Philippa Bentley is an Auckland artist whose work is usually inspired by nature, often with a twist.
Philippa exhibits regularly and has work held in both New Zealand and international collections. She produces limited edition fine art prints and paintings, and has received awards in painting, printmaking and design. She works across a range of media and is currently exploring new technologies in her art practice. She is excited by the opportunities of art, science, design and technology working together.
"I love visiting natural history collections and marvelling at the dinosaur fossils, giant bird eggs and beautiful, colourful exotic butterfly collections, 100-year-old plant specimens and more.
I believe our natural history collections are as much about our social history and the context of the time, as they are about the natural flora and fauna preserved; the collector as well as the collected. I use natural history collections as a metaphor for presenting my themes and thoughts. In this way my artwork can be simply enjoyed aesthetically yet functions on different levels, with both personal or social meaning; layer on layer, and often includes an image within an image."
A fascination with insects, that's lasted from playing in her sprawling childhood garden and in the creek down at the bottom of the bush, inspired Philippa's Insects and Memories series. This is a series of insect collections presented as museum boxes.
"Just as a butterfly is caught and preserved in a specimen box, so do we capture our experiences and archive them as our memories. We are all collectors of memories, experiences, sensations, fragments of days that layer us up and make us who we are."
Philippa's original insect images are individually screen printed and hand painted on to weatherboards or paper.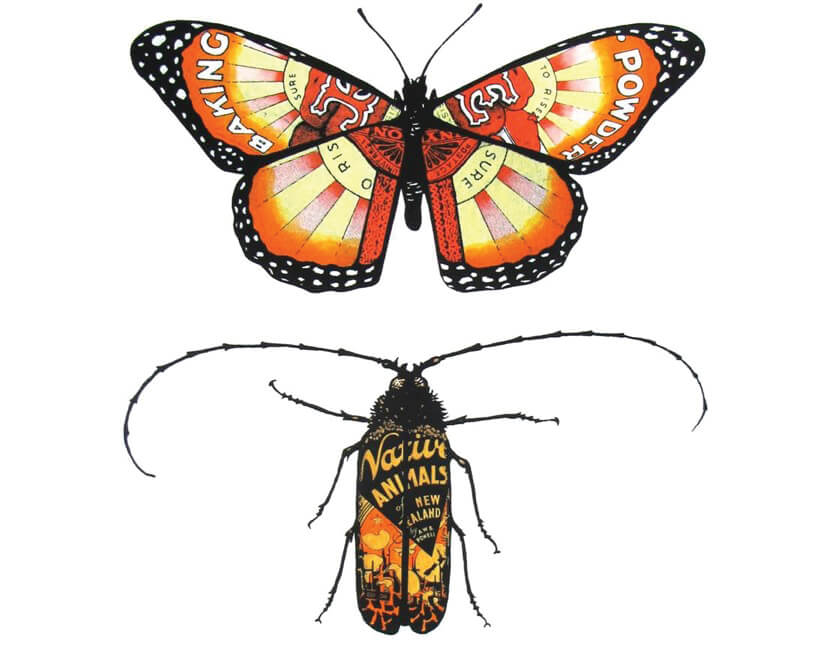 They have been described as "memory boxes". For example, Philippa's Huhu Beetle is adorned with the cover of AWB Powell's 'Native Animals of New Zealand'- a reference book familiar to many from the school nature study table or a dusty shelf on the bach bookcase.
The Insects and Memories series has been very well received and was reviewed as "highly unusual and utterly delightful".
Augmented Reality (AR) tecnology now brings Philippa's Monarch Butterfly to life. It's wings lift, it walks and then flies off the paper, or out of your computer screen, and in to the room in front of you. A bit of metamorphosis magic!
Sir David Attenborough said, "Butterflies lift the heart. They bring such joy."
And surprise and delight show in the face of people interacting with the app.
Search Philippa Bentley Monarch or you can go to this link to download the app, free: philippabentley.com/#!augmented-reality-ar-art/ckvw
Philippa is also extending her body of work by developing a fresh, new series of botanical artworks. The natural history collections are now fauna and flora together.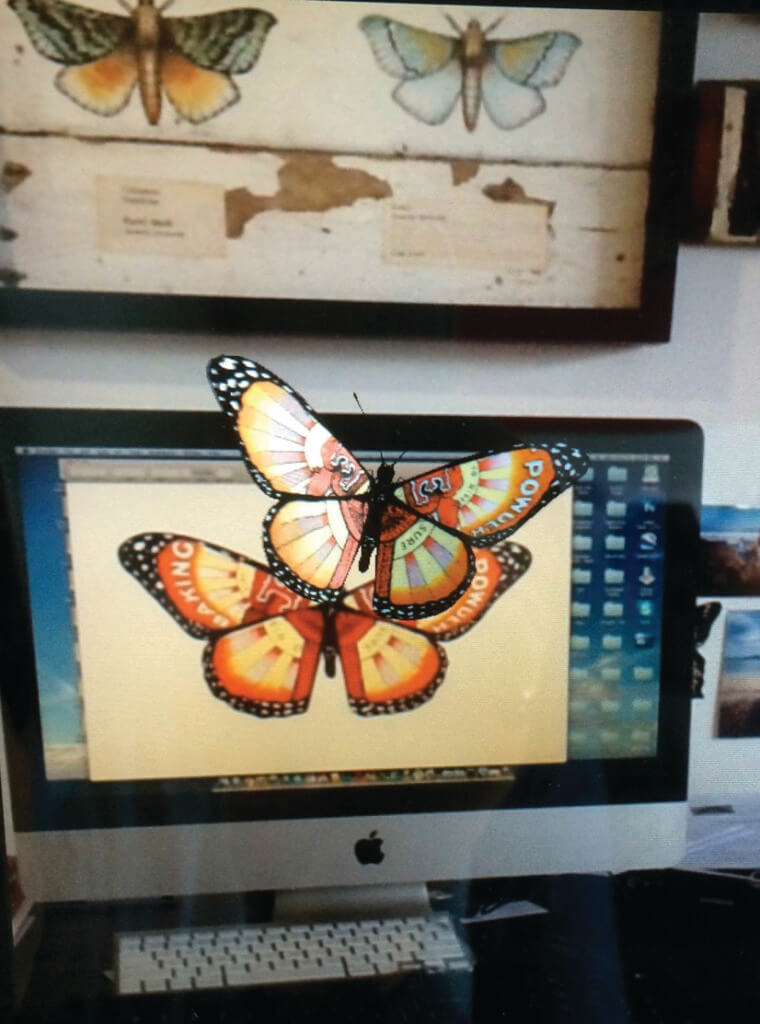 Philippa is developing her own herbarium of plants and tattooed botanicals inspired in part by the plant specimens collected by Banks and Solander on Cook's voyage of discovery in 1769, and in part by her late father's much loved garden. This series reflects on family, generations and the process of becoming; what we pass on from one generation to the next, literally in her Spode Tattoo paintings and also in a broader sense. The resulting artworks draw from the tradition of botanical art yet are large, highly original and beautiful paintings, screenprints and mixed media works.
A recently purchased property north of Auckland is providing fresh inspiration for the artist — literally a new creative landscape and broadening horizons.
"I love the idea of retaining a sense of wonder in the world. My work celebrates our native flora and fauna; our land and sea, and often reflects on memory and identity, love and the collector."
To view Philippa's work, a selection of pieces are held at the Flagstaff Gallery in Devonport
---