The Gallery, so named due to an illustrious artistic pedigree, is located in the peaceful paradise of Mahurangi West, an easy 35-minute drive from Auckland.
The accommodation is an award-winning masterpiece designed by Pip Cheshire of Cheshire Architects. The building boasts spectacular views out to the Hauraki Gulf and is set amongst two acres of rolling lawns with a four-acre background of mature kauri and rimu trees. A native walk features birdsong of tui, wood pigeons, kookaburras and kingfishers, a viewing platform looks over a 1,000-year-old kauri tree, and a contemplation bench invites thinking time.
Originally designed as an art gallery and residence for internationally acclaimed bronze sculptor, Terry Stringer, the artist has left a unique calling card with hand-painted artworks on the walls. "He usually works with sculpture. I love his work, not everything is revealed at first glance," says Jane Scott who owns The Gallery with her husband, Ash Hare.
The property was open to the public as Zealandia Sculpture Gardens from 2001-2015 as a showcase for Stringer's bronze sculptures. "Plinths are dotted throughout the grounds where the sculptures stood, we've replaced them with large planters but we've left one [plinth] free so we can have one of his works eventually," says Jane.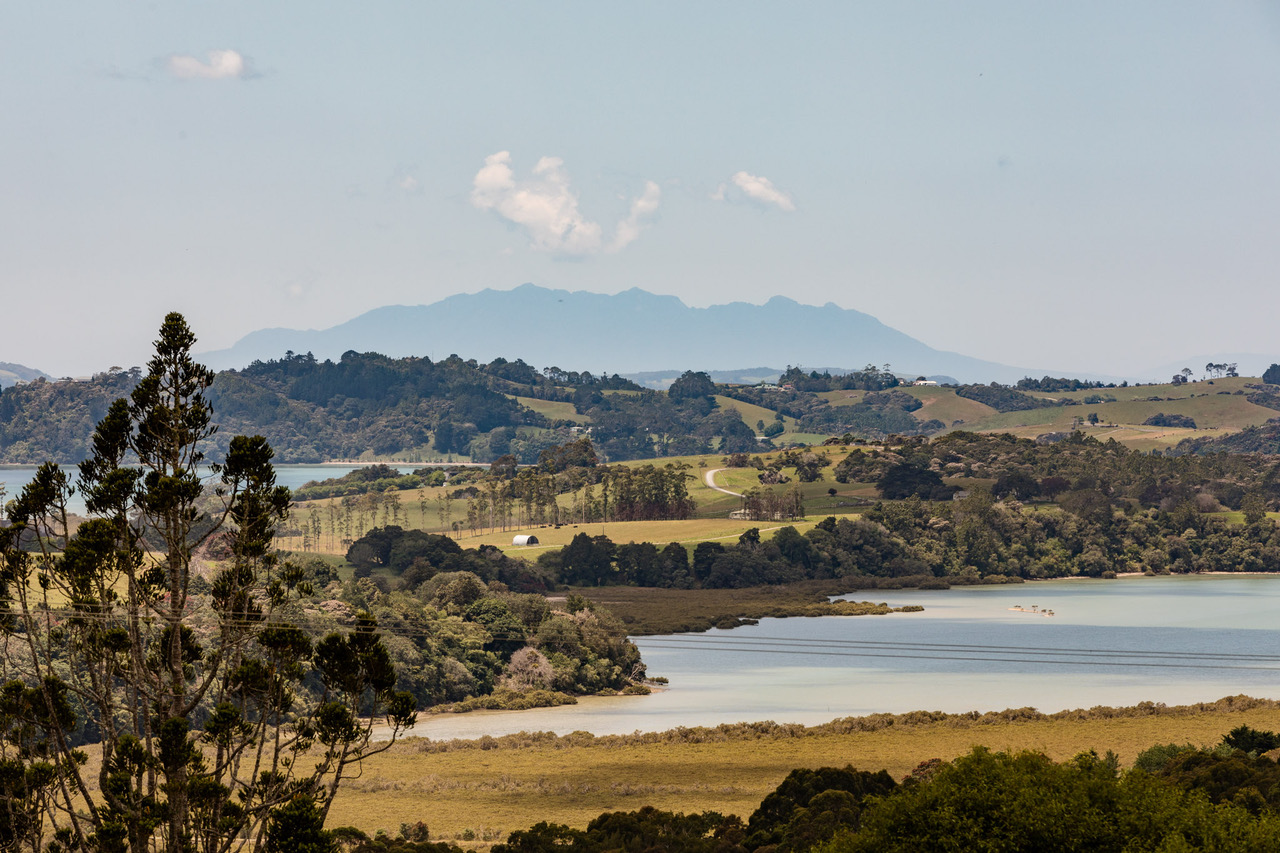 The couple were enamoured with the property when they visited the gardens. "I knew we would live here, I felt it in my bones," smiles Jane who shares a passion for art and architecture with Ash who owns a company that builds high-end homes.
Together, they transformed the studio, which was a converted woolshed separate from the main building into their home and the gallery and residence into a luxury accommodation retreat. "We wanted to retain the aesthetic of the buildings, preserve the artwork of Terry Stringer, and share the unique spaces with guests," says Jane.
The goal is to encourage a return to human connection. "When people talk about connection today, most are referring to the electronic variety. Many people are together and absent at the same time, their attention consumed by devices and stress. Our intention is to provide couples and families the chance to reconnect with each other and nature," says Jane.
To that end, while Wi-Fi is available at The Gallery, Jane recommends leaving devices in flight mode during a stay and treating it as a retreat from the stress of daily life. "People can come here to take time out and unplug," she says.

The Accommodation
Frequent travellers, Jane and Ash have learnt much from their own experiences. "Many of the hotels we've stayed in have heavy air conditioning and no bedding options. So our guests have three choices of pillow and lots of bedding layers that can be adjusted according to individual preference. I believe overall comfort and details like these are important," says Jane.
She's applied the same ethos to the breakfasts that are part of a stay at The Gallery. "I'm a foodie with a health focus and I've sourced locally where possible. There are gluten- and dairy-free options, organic juices and yoghurt from Puhoi, amazing bread from a German baker in Silverdale, and I'm selling Puhoi Honey. The beekeeper who produces it loves his bees so much he doesn't even wear protective gloves. We've also planted vegetable gardens and fruit trees so we'll use some of our own produce as it ripens."
A water bore provides high quality drinking water. "It's a different experience to city water; the first time I washed my hair I couldn't believe how soft it was."
The Forest Suite
The Forest Suite sits at ground level and features stunning 19th-century stained-glass windows from a French cathedral, a full kitchen, dining, generous luggage room with desk space and hand-painted original Terry Stringer wall art.
It includes a super-king bed, luxury bathroom with shower, tall ceilings, gas fireplace, and a lounge with bi-fold doors to a private courtyard.
The Cloud Suite
The two-level upper Cloud Suite enjoys sweeping views of the Hauraki coastal inlets and stunning treetop vistas from both levels.
The first level interior includes a lounge and dining area with a gas fireplace and galley style kitchenette. The upper level features a king-sized bed fitted with luxury linen, a small en-suite bathroom with underfloor heating and a powder room.
The Gallery Accommodation in Puhoi provides a stunning backdrop for an indulgent getaway.