When Vicky Cullinane finds something she enjoys, she doesn't just dip in her toes. Her joyful curiosity has taken her deep into full immersion – this time with a range of high-quality premium organic teas that pair perfectly with her yoga and meditation practice.
Vicky started practising yoga in 2013 and found the benefits so phenomenal, she wanted to share it with friends. So she trained as a teacher. Two years later, she opened an award-winning yoga studio with the refined ambience of a day spa in Auckland's City Works Depot, attracting some of the best teachers she could find.
"If you're going to do something, do it well and with passion," she says.
In a short period, the studio gained popularity among city professionals as she added different forms of yoga classes and meditation.
Looking to expand organically, she began exploring opportunities to add products aligned to the business. This year, she is introducing workshops, a series of overseas guest teachers and yoga retreats to the yoga agenda.
But she has always had a love of tea. In 2018, she travelled to Sri Lanka and visited some tea plantations. "What I experienced there was extraordinary. I had drunk tea my whole adult life, but I'd never really experienced great tea."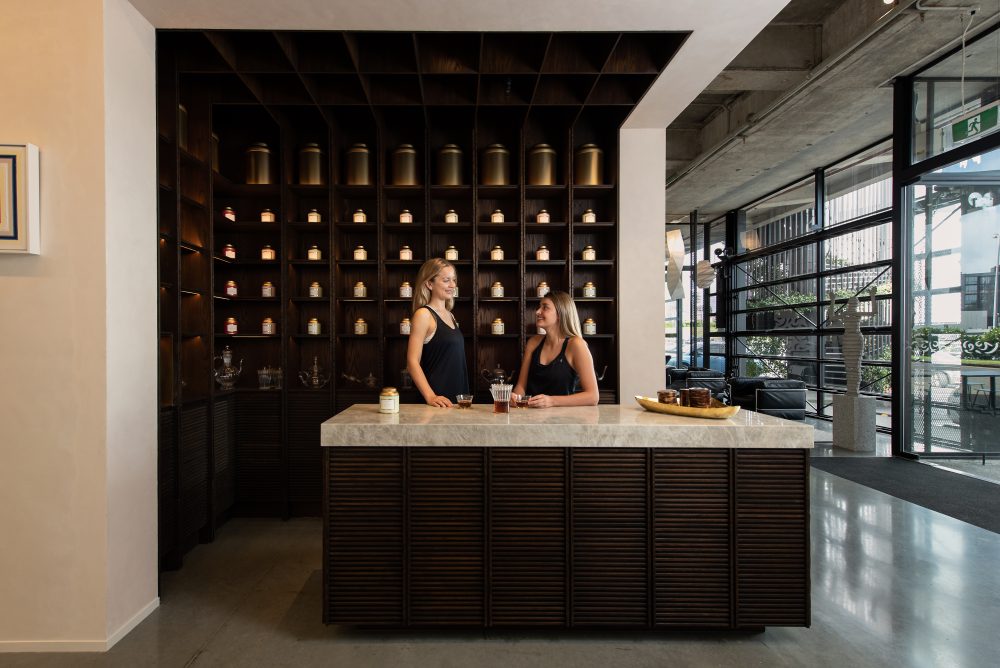 There, she tasted silver needle, a white tea. "The interesting thing is," she explains, "it all comes from the same plant. White tea is the bud and it's hand-picked. It's how you process it that changes it from green to white and black."
Vicky found tea was a natural extension of yoga and meditation as it also creates those calm moments in life, we're all searching for in our day.
"It's a clean drink. You're not putting additives in it. It's a ritual. And it's social. We travel a lot and I especially love taking time to drink tea in hotel lobbies and cafes.
"Tea slows you down to speed you up. Unlike coffee, tea drinking is slow – so it fits into yoga and meditation really well."
She found a course in the UK and studied to be a tea sommelier. Now,  she's studying to be a tea master. And she found a way to share the joy.
By sourcing the finest tea leaves from around the world, she has personally curated a beautiful range of Studio Red Wellness organic teas and infusions and added some uniquely New Zealand flavours, which she sells from her yoga studio and online (studioredwellness.com).
She can also customise teas and already, Odettes Eatery, her neighbour at City Works Depot, is serving a special blend she created for them. It's something Vicky would like to do more and she is in talks with several other cafes, restaurants and hotels.
Blending the teas, getting the delicate balance just right takes time. "It's all about taste and quality," she explains. Both have to be at a high level. And you want it to be enjoyable."
Vicky offers a choice of either loose teas or in biodegradable cornstarch tea bags. She puts the same product into the tea bag as in the loose packets, so they are both very high quality, not just a powder that you find in most tea bags.
She also blends native New Zealand herbs with her teas, a New Zealand breakfast tea with kawakawa, Earl Grey with manuka leaf and an energy tea with horopito which makes it taste like chilli, warm and spicy.
There are blends to suit different tastes and occasions. As an alternative, Vicky suggests serving tea cold like a cocktail from a lovely teapot. She has even added chilled rose and vanilla tea to vodka.
In two months, she will launch a special rare range of wellness teas including a great-tasting energy tea containing a caffeine boost and a fantastic anti-inflammatory.
Packaged in elegant tins with softly curved gold lids, Studio Red Wellness teas make great gifts – nourishing the soul, relaxing the mind and bringing wellness to busy lives. The perfect complement to yoga and meditation.
studioredwellness.com  / 
City Works Depot: 90 Wellesley St, Shed 15.5, Auckland CBD
Words: Vicki Holder