British artist David Hockney is a founding member of the British pop art movement in the 1960s. The artist is a painter, photographer, draughtsperson, printmaker and stage designer. In summary, he's an experiential storyteller, renowned for propagating the space around him to challenge our assumed truth, control our gaze and manipulate our senses.
I was first introduced to Hockney's work through his photographic collages of the 1980s. At the time the narrative surrounding his polaroid composites pointed to cubism and he was credited with unlocking the medium of photography, giving movement and narrative beyond the confines of one individual image. 
His photo assemblages challenged the way in which we saw a thing. When we look at an object in real life our brain connects visual information, filling in the gaps to form a seamless experience. Hockney's photographic work unstitches this resolved experience, forcing a re-evaluation of expectations around photography and, on a more existential level, of our reality.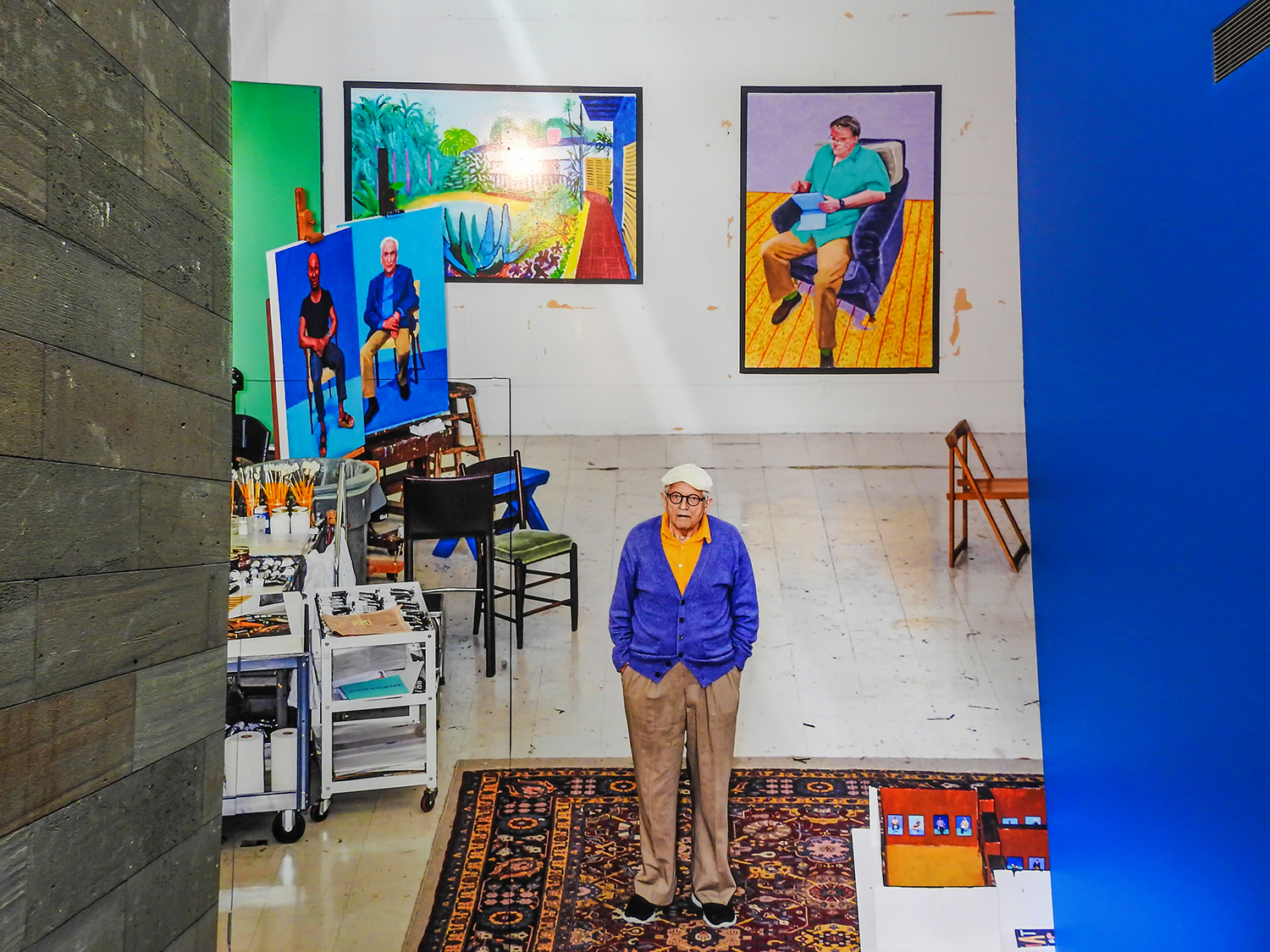 His painted pool at Hollywood Roosevelt takes the notion of personal narrative verses reality a step further. His curved blue marks dance and distort under the rippling water's surface as it bounces light any which way, creating myriad visual experiences, each unique. His expansion on this work via his photographic assemblages and paintings amplify his narrative, he takes us along for the ride, breaking it apart and offering us resolutions. Re-photographing, repainting, rearranging. So much content from one subject!
This theme of offering many visual narratives from the one source ripples throughout Hockney's work. In his exhibition, David Hockney Current, at the National Victoria Gallery, his video installations further extend his compartmentalising of the raw narrative. The Four Seasons, Woldgate Woods, covers the four seasons of the artists hometown of Yorkshire. Each season is presented over nine digital screens which create a single work large enough to engulf a substantial percentage of a viewer's visual scope. Each screen plays a different viewpoint of the same journey – creating a breathtaking, immersive experience.
I can only wonder what Hockney would create if he further explored interactive media and virtual reality. What space would he create for us to navigate? Would our movements leave marks? I suppose they would, just like in life.