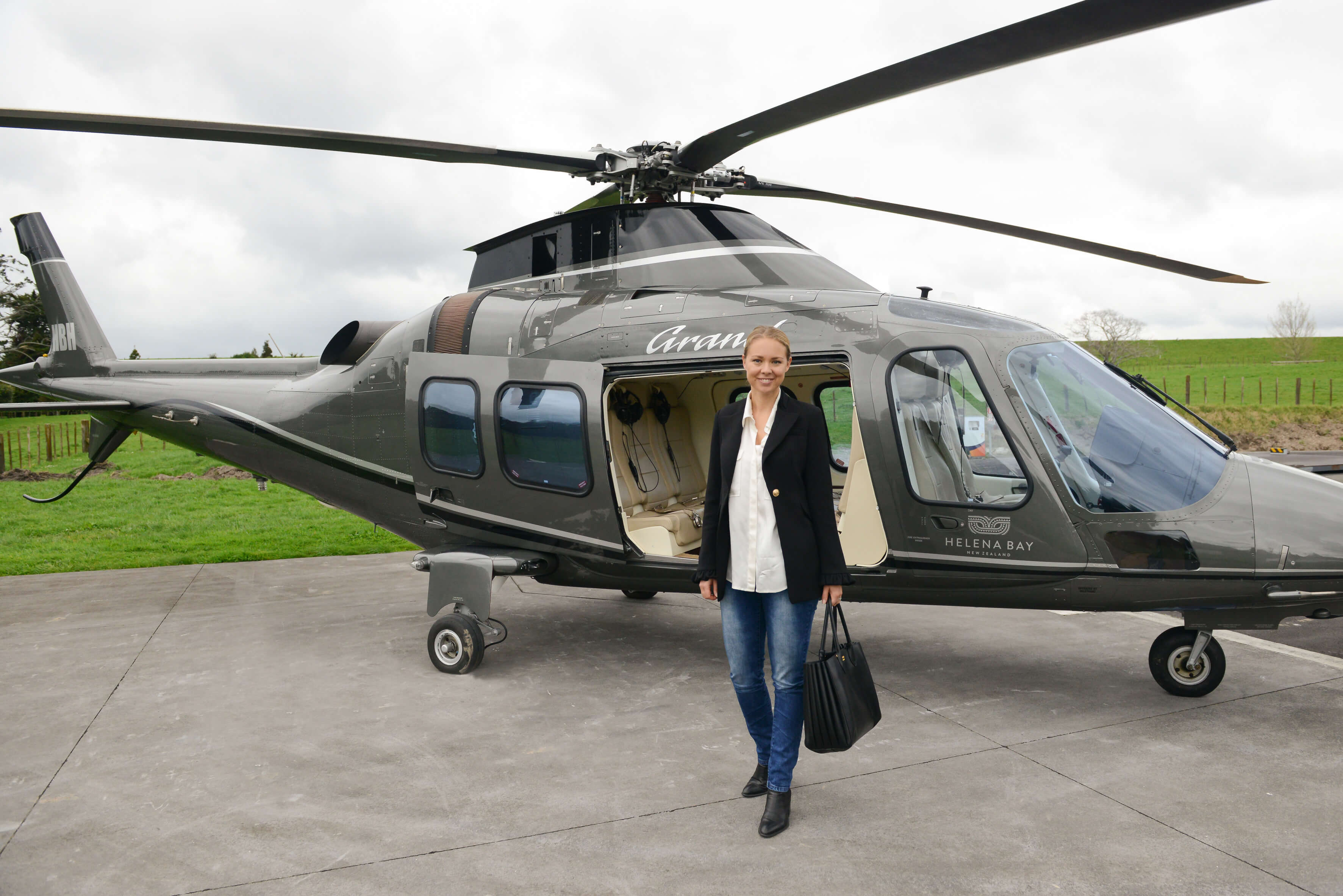 Now helming helicopter flight firm Heletranz, it's only fitting that husband-and-wife team John and Sofia Ambler's first encounter was at altitude. Though, rather than across the aisle of a first-class cabin, their eyes first met between the windows of their high-rise apartment block in Hong Kong where Kiwi John was based as a Cathay Pacific captain and Swedish-born, multilingual Sofia worked in the financial industry.
However, though John may be the one with the aeroplane and helicopter licenses, Heletranz wound up being Sofia's baby. Having spent 12 years in Hong Kong (where the couple's three daughters, Emma, Maya and Klara, were born) the couple moved to Stockholm for three years before arriving in New Zealand in 2013 to purchase the helicopter firm.
"I left it very much to John to deal with and was going to continue working in private banking or stockbroking," says Sofia. "But we soon realised that more money was needed to grow the business, so John basically turned and headed back to Hong Kong for another four years leaving me to run Heletranz. John's helicopter dream became my reality!"
And grow the business Sofia most certainly did, even though she readily admits that she barely knew where to start. It took around two years to find her feet. "We were just continuing where the previous owners left off," says Sofia. "Heletranz will celebrate 30 years next year, it had such a great reputation and we didn't want to muck it up."
Under Sofia's and John's guidance, the firm has expanded with a new hanger and a new fleet including IFR (instrument flight rules) and multi-engine capacity helicopters that fly in incumbent weather and during darkness.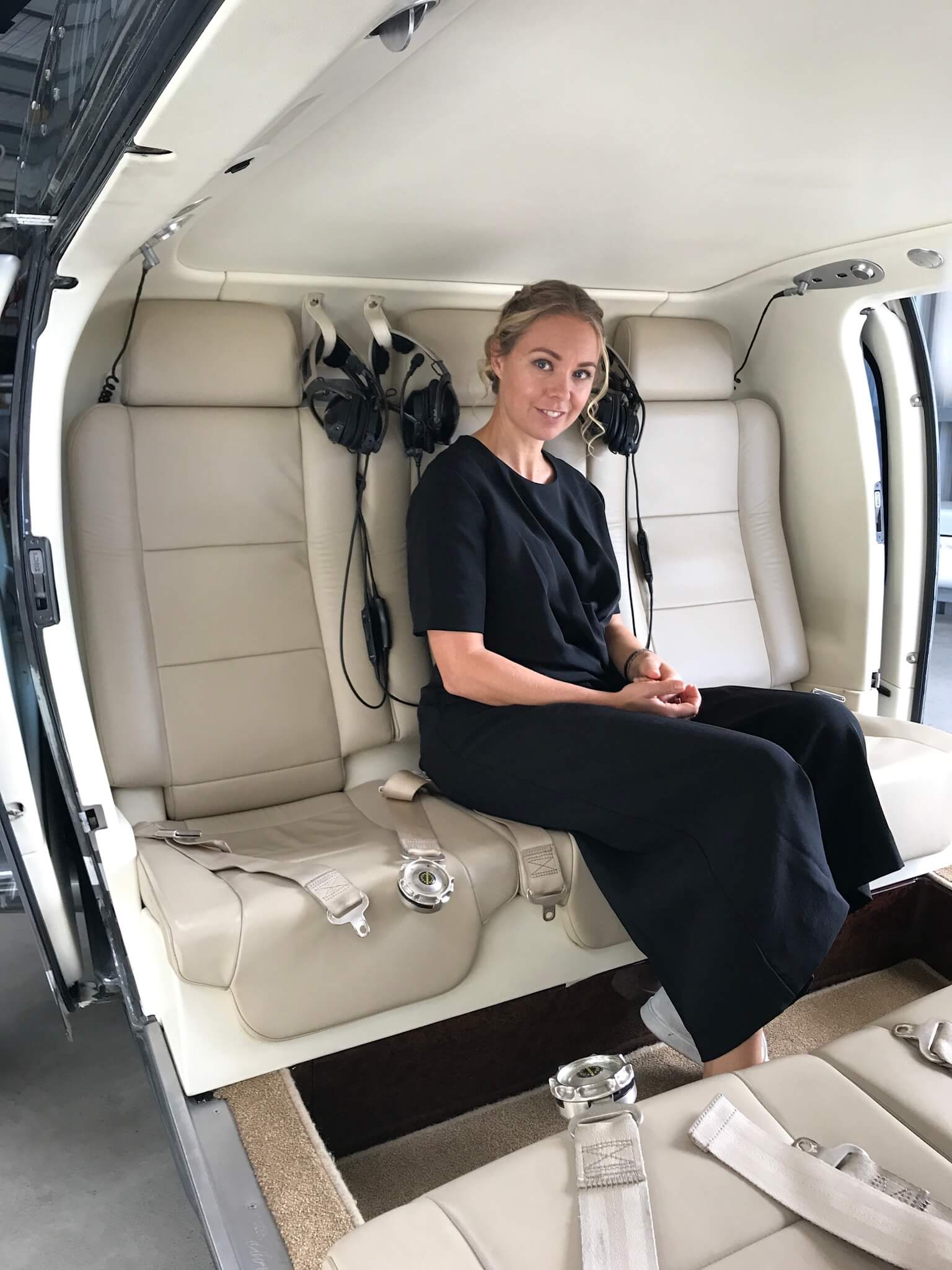 "Our focus on the absolute best gear has been instrumental in our growth," Sofia adds, "the ultimate testament being chosen to fly ex-President Obama on his recent trip to New Zealand." While filming movies and sporting events was a big focus of the previous owners, Heletranz has widened the offerings to bespoke holiday tours and special occasion options (think birthdays, anniversaries or marriage proposals) as well as corporate and commuter flights.
"Though we are obviously positioned to the luxury end of the market, there are affordable options," says Sofia. "For $395 per person, you can fly to Mudbrick on Waiheke, including a glass of sparkling wine and three-course a la carte meal with tea and coffee, then a taxi and ferry back. You don't need thousands of dollars to experience a helicopter."
The company has also just launched a pre-purchased hours programme called Heletranz Private, essentially a "members club" for those frequent flyers, with a discount on the hourly rate, while another popular option for time-poor tourists is a whistle-stop North Island tour taking in Waitomo Caves, Rotorua and Hobbiton in a single day.
"New Zealand is seen as such a bucket list destination, attractive to high net-worth individuals," says Sofia. "It's safe and clean with high quality produce. The people are friendly, and the incredible landscapes and nature is so accessible. We have good contacts with farmers and fly fisherman for those isolated spots. Within 15 minutes of flying you can be on a beach with no one else there. For visitors, that's gold."
Though reaching for the clouds, Heletranz still retains its family-run roots.
"We're lucky to have such a solid team that has bought into the family mindset," says Sofia. "I'm more of a strategist, but not so good at the finer details! That's when the delegation comes in. My great team helps across both companies."
The other company, The Luxury Network, is an affinity marketing and networking group that connects New Zealand's most prestigious brands. "The idea was that I would manage that, and John would take care of Heletranz, but then he started flying a private jet so now he's not here much again," says Sofia. "And I've ended up with two businesses!"
Sofia (unsurprisingly) laments that the old work-life balance has been her greatest challenge, and though she by no means claims to have mastered it, she does feel in a healthier headspace. "For the first couple of years it felt as though I wasn't investing enough time as a mother," she admits.
Now added to that are the pigs, chickens, calves and lambs on their farm.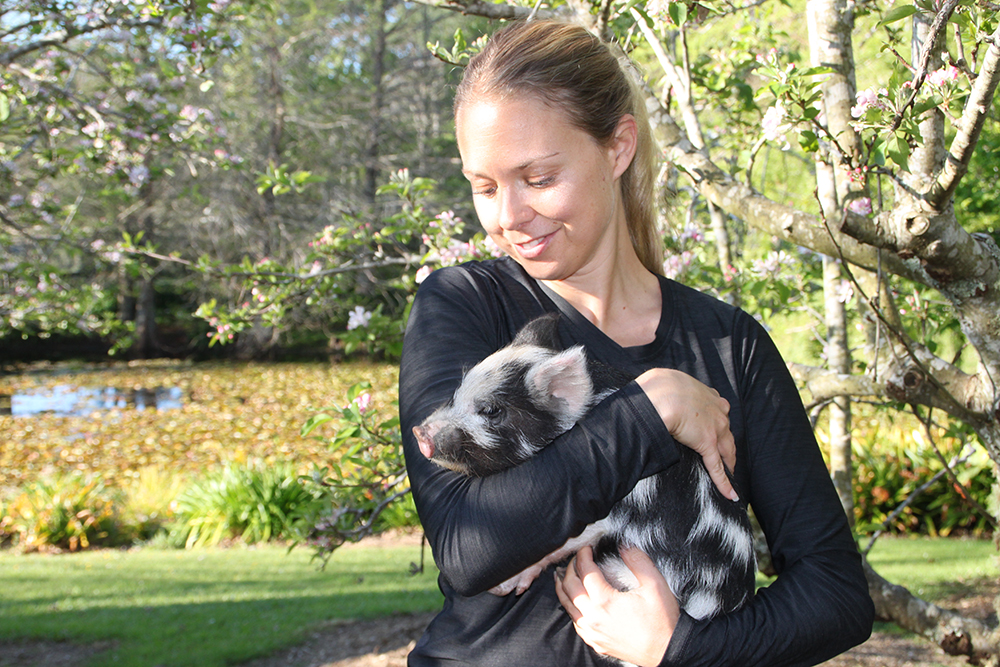 "I make sure we go back to Sweden at least once a year," she says. "That's my big break, hanging out with my family and spending time with nature. One of my biggest hobbies is mushroom-picking. It's total mindfulness, foraging in the forest."
Back in New Zealand, the businesswoman hikes regularly and swims every morning either in the sea or her saltwater pool: "Though it is more of a dip during winter!"
Though Sofia believes New Zealand to be a wonderful place to start up and run a business, she says that there is still much work to be done getting more women into the boardrooms. "There are amazing female entrepreneurs such as Kathryn Wilson and Cecilia Robinson, who are friends of mine," Sofia says. "But we need more of them!"
And she's leading the charge.
---
Connect with Sofia on Instagram at:
@sofiaambler
@heletranz
@theluxurynetworknz