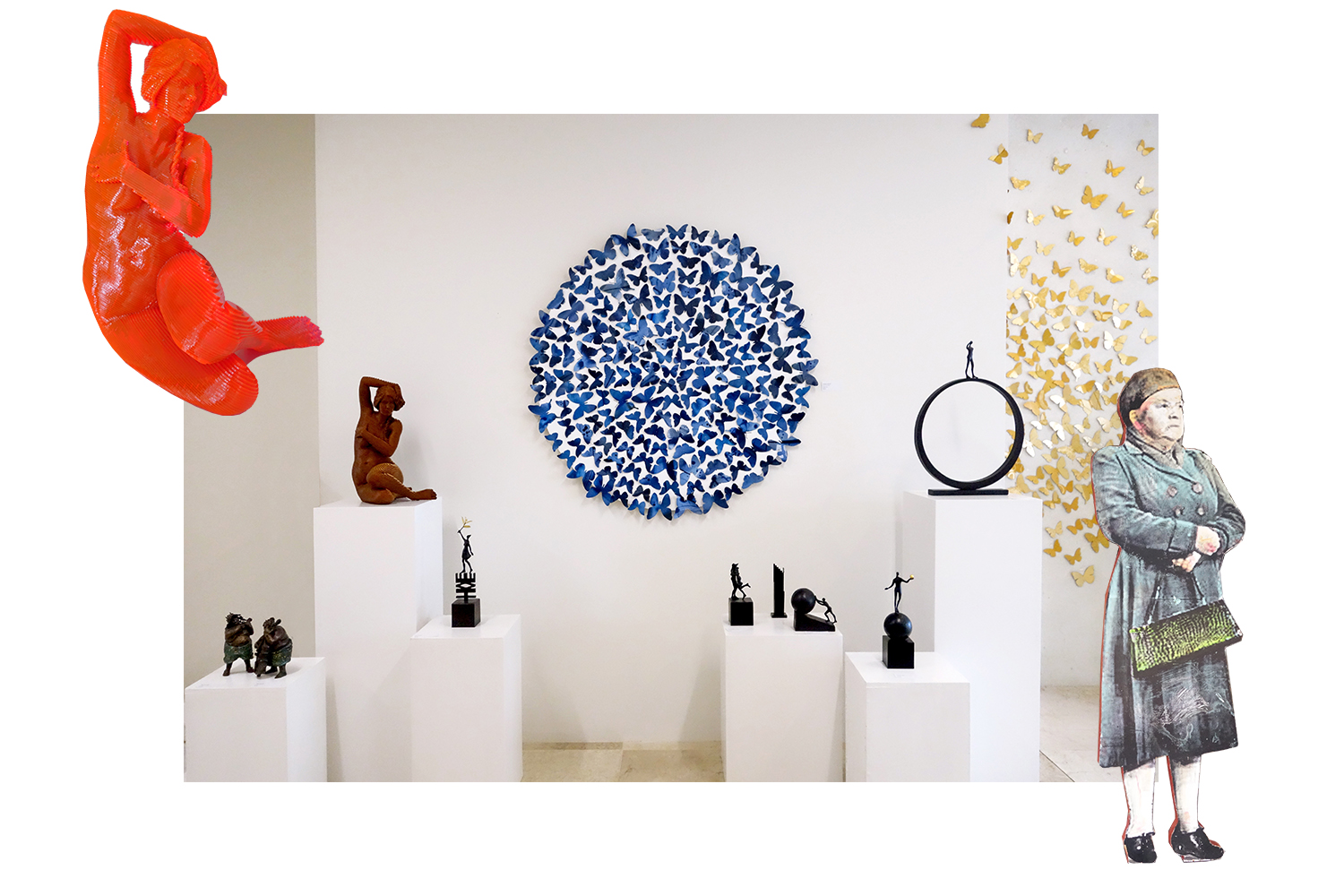 Left to Right:
Olivier Duhamel, 'Ariane', laser cut acrylic, 340 x 520mm
Vicky Savage bronze sculpture alongside Anna Stichbury butterfly installations
Christian Nicolson, 'Ena Sharples', laminated macrocarpa, 500 x 1700mm
From the moment Coronation Street's Ena Sharples provides a wry welcome at the front door and a flutter of golden butterflies draws visitors further in, a spirit of positivity infuses the summer 2021 exhibition at Parnell Gallery @285. 
This satellite show expands the offering of the mothership just a few doors along Parnell Road with a focus on sculpture, original paintings and framed limited edition fine art prints; works that captivate and inspire.
Since its inception in 1976, the gallery has exhibited and supported a diverse stable of New Zealand sculptors, recognising the ability sculpture has to transform a space and the importance of enhancing the interior experience. 
To celebrate summer 2021, this special exhibition showcases a dynamic and revolving collection that invites visitors on an imaginative journey and responds with optimism to the future. This is art in the affirmative and includes the enchanting figurine of Waiheke-based Olivier Duhamel's 'Ariane' crafted in individual slices of laser-cut orange acrylic, a playful medium that captures the light so that it glows from within. 
Also on display are bronzes by renowned artist Vicky Savage whose small-to-medium-scale sculptures are whimsical commentaries on a moment in time. In her latest body of work, Vicky has responded in part to our collective experiences of Covid-19 by creating pieces that express positivity, works that recognise the gravity of circumstance while shining a light on the ways we found balance and looked toward brighter days ahead. 
The summer 2021 exhibition at Parnell Gallery @ 285 is now open Wednesday – Sunday weekly until the end of January.